LU Inc. Services – What We Do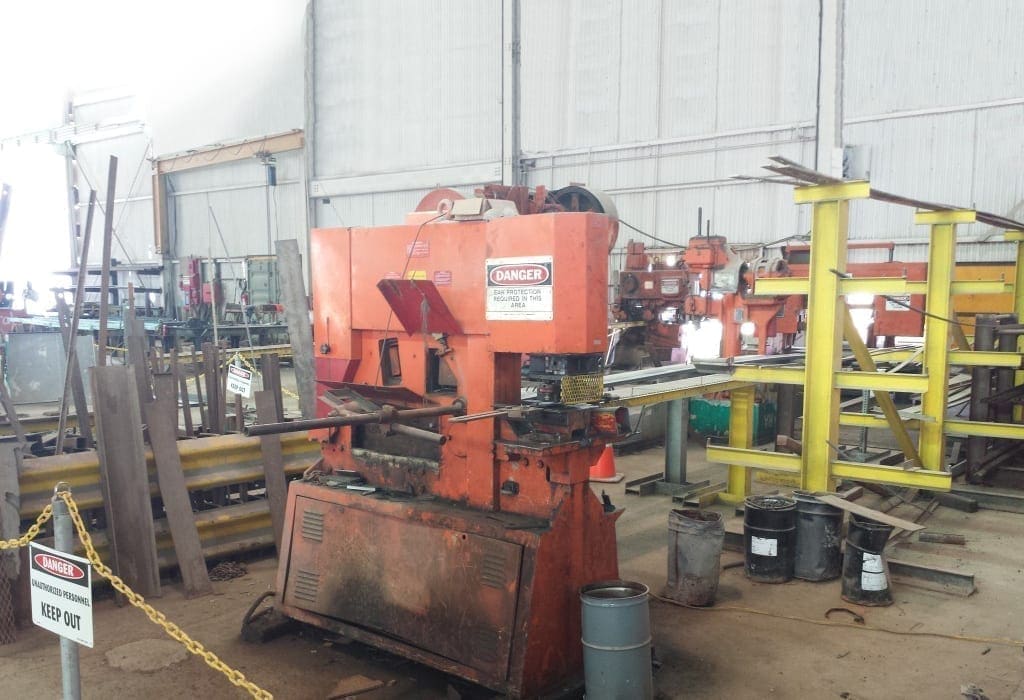 Our trained staff gives us the capability to fabricate anything from breakaway sign supports, to base-plated steel posts for guardrail, or custom fabricated truck mounted attenuator beds. For the past 25 years our fabrication team has continued to stay up to date on all fabrication, welding, and flow techniques to create products that we guarantee will meet the proper standards for any job. As a result of our extensive and proven work, we were accepted as a miscellaneous metal fabricator in the state of Georgia (GDOT QPL 59: miscellaneous metal fabricator).
Not only is our team knowledgeable, but also they take a creative approach to figuring out how to save time and money. With over 60,000 square feet of covered work area, 6 bridge cranes, 3 jib cranes, and all other necessary equipment no job is too big or too small. The most important aspect of our fabrication service is always meeting our deadlines.
The attenuators that we offer are not only top of the line, but also require the least amount of maintenance on the market. On any project you may have whether city, state, or federal highway, we will make sure that any and all types of attenuators we provide meet any and all standards and specifications. Our goal is complete customer satisfaction, meaning we will provide advice and direction in the attenuator selection and installation process. Our knowledgeable sales staff, highly trained, and field tested crews are what make us stand out from the rest. It is of utmost importance to us to not only get the job done, but also to meet and/or exceed deadlines.
We provide on time installations for any size and all types of projects with our highly trained erection crews and state of the art installation equipment. All products we install meet NCHRP 350 requirements. Specifications, depending on the state, will be met when work is performed. Our procedures have been in place for over 30 years and have set the standard for guardrail installation throughout the country. We make sure that all of our jobs are done correctly and never have to be revisited due to incompetent work.
Commercial Fence Installation
With over 25 years of commercial fencing experience on staff, this division has the capability to cover a wide variety of your fencing needs. With the certifications that our management and field staff have acquired over the years (certification links listed below) our expertise is in designing and installation of commercial fencing and gates. This means that we have both the knowledge of our products and a guarantee that it will be installed correctly.
Our installation crews possess the following qualifications:
Certified Automated Gate Operator Installers [IDEA]
Certified Automated Gate Systems Designer [IDEA]
Certified Fence Professional [AFA]
LU, Inc. also offers temporary fencing for all commercial construction projects. If you have a need to secure a facility during construction, then LU, Inc. can fill that role.
Road Signage Installation
Our road sign division's relationship with our fabrication department gives us a competitive advantage on bidding signage projects. We are able to eliminate costly time delays on certain material as a result of our sign fabrication capabilities. We have the capacity to install all types of road signs including but not limited to overhead signage, butterfly structures, bridge-mount structures, directional message board structures, regulatory road signage, informational road signs, park signage, and much more.
We provide quality and on time work for any type of project be it big or small. In the sign business there are five key things that are necessary to completing any road sign installation: the ability to drive a post, dig a foundation, pick up a structure, remove a road sign, and replace a road sign. Our road sign installation crew and management team have 25+ years of experience with all these steps and types of sign work in all states where we operate. We make sure to provide signage that meets all standards, certifications, and specifications according to the states we perform work.
Our experienced management, field crews, and mechanics give us the ability to quote, maintain, and repair any and all types of attenuator, commercial fence, guardrail, road signs, sign fabrication, and any other miscellaneous issues. We pride ourselves as being one of the only companies to provide 24/7 service to any and all of our customers. In the past we have been successful in bidding, executing, and completing multiple maintenance contracts with various city, county, and state entities. We value building and sustaining relationships with our customers. So that means you call us with a problem, we will be there to get it fixed.